Happy November Everyone!
I hope everyone got their fill of candy last night and is ready to hop on board the Stuff to Scrap Blog Train.
The theme this month is Morning solitude and has a very mellow colour pallette. The freebies will be up for at least 2 weeks but many of them only 2 weeks so make sure to grab them while you can. This was my first attempt at creation (these were created before Flower Funk) and so I offer you a paper pack! Download here and head on to your next stop!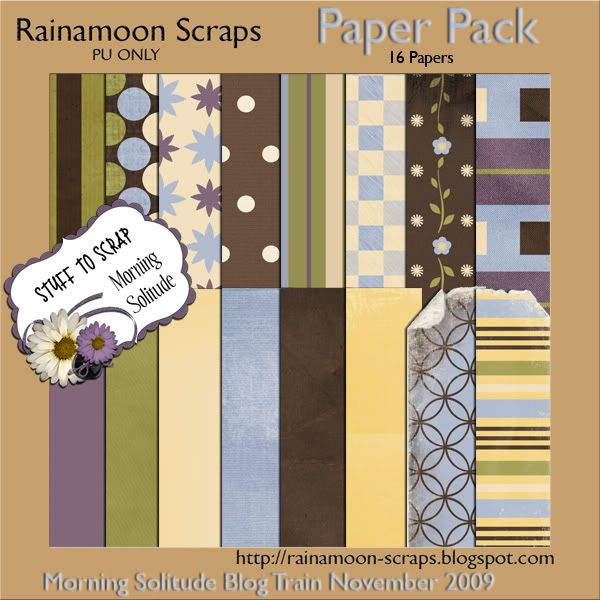 Download
Scrap Like Crazy
Manda's Scrappin' Creations
Rainamoon Scraps (You Are Here)
Becky aka SAHM Scrapper
Scrappin' Serenity
Life Is Not A Cereal
light's digiscrapworld
Christin's Creations
Scraps 'n Pieces
Midnight Scrapping
Kori's Scraps
Desertgirl Designs
Farrah Smith Designs
Little Red Scraps
Always Be Neighbors Designs
Ányi + a digitális scrapbooking
Grandmas Templates
The Scrappy Kat
Digi-Scrapz by Christi
Jensen Motley Crew Designs
Ginger's House
StashHappy Designs
My Scrappy Heart
Dream Big Designs
Shel Belle Scraps
Adriana's Cafe
Mommy Me Time Scrapper
momsuniquepossiblities
A Fish Design
Nibbles Skribbles
A valóság tükre (Osli's blog)
Knittinjen
Borsmustár
Saphira's Scrapdesign
CityGurlCreations
ThisLittleMissy
Let Me Scrapbook!
scrapattack
Crafting at Your Special Delivery
Flower Scraps
Every EverAfter Moment
Nita's Things
Craft With Me
Mad Genius Designs
The Latest Scoop, Too
ABC Scraps
JW DigiScraps
Also Join us tomorrow over at
Stuff to Scrap
tomorrow morning for another speed scrap. This Speed Scrap is being hosted by Digi-Designs by Nicole.
The Participation Prize is this Thanksgiving Word Art set.